8/5/2011 9:46:47 PM
Oh thank the Gods today was session day. And the Pink Hello Kitty Slave Girl outfit is distroyed. It was wonderful I am so happy. We also sign the new year contract on the 7th of August.
I can't imagine being a sub for any other dom. This is my dom soul mate.
---
7/30/2011 6:31:27 PM
The pink Hello Kitty Slave Girl outfit was a hit, I still haven't gotten my reward, but that is because life has gotten in the way. We haven't had a session since April I think was our last. Alone time is special and precious.
My Master is pleased with me and this coming month is the end our 9 month contract. I get to sign our new year contract. We have to work on a few things like making me/ or getting me something I can wear all the time. And finding a way to have session time with me going to school full time. I had hopes that we would have a session before the end of our last contract to celebrate and to get my reward but I am not sure if it is going to be possible.
I do admit since I moved in with the family it is one of the things that has taken a back seat in my life. With busy lives and family commentments it is hard to plan a time when we can have a few hours of alone time.
I so desperatly need to leave some worry behind, to feel my Master's rough hands and demanding words.
I know he cares for me, desires me, and is pleased with me, I am the one that is afraid to ask for time, afraid to demand it for me.
---
5/26/2011 2:50:00 PM
So it has been very busy and very fun here in my world. We just got back from Texicon.
I have a project I have to start on very very soon. My master has requested that I wear a very special once in a lifetime outfit to A-kon. The reason this is a once in a lifetime very special outfit; the outfit is a pink hello kitty costume. A little note about me; I hate the color pink unless it is on a speical part of a woman, I also hate hello kitty. But the reward for making and wearing this outfit is very worth the pain and suffering. So wish me luck that atleast I make it look as good as I can.
---
2/24/2011 1:10:12 PM
Wow I know it has been a while since I have been on and updated everyone on what is going on. September of last year saw alot of changes for me. I moved from Azle to Arlington. I left a 12 year relationship. Since then I am going to start college in the fall, I started a role play magazine, I am working with my best friend on our indie craft business, I have been camping again, and crafting. I wake up every morning to hellos and how did you sleep it is wonderful. I am living with my Master, his wife, and their girlfriend, his two sons. I am also dating two men one is away on business quite often the other I just started seeing. I have gone on a few dates, debated religion, and been working very hard to get my circle back up to where it has been before.A lot of positive marked only every once in a while by dark clouds but I am making it through.
---
12/20/2010 3:55:54 AM
It has been a fantastic month. I just signed a 9 month contract with Sir and today we get to have a session. It has been 3 months since I moved in with Sir and his family, we never thought we would have a 24/7 dom sub relationship but it happened in as much as we can. I can't imagine being anyone elses slave, he is a wonderful master. I am in a state of antispation to find out what the future holds.
---
6/20/2010 4:28:23 PM
Life is fantastic. I just signed a new contract for 6 months with Sir. We are talking about attending some of the groups in the local area and attending Beyond Vanilla. I just hope that I will do him proud. We bought a new collar at Akon and I can't wait to put it on for the first time. Hubby and I are doing well and on the right path to finding out where we are in this new stage in life. Hubby is even talking about finding a local job with health insurance. School starts on my birthday and I will be a full time college student. And my best friend is going to join me in school. All my relationships are fantastic and I don't want to be anywhere else. I can't begin to tell you how happy I am. My circle is doing great we had a wonderful Summer Solstice celebration this weekend; a few people couldn't make it because of health but they were in our hearts. My students are doing well and about to hit the end of the first stage of their year and a day. This week I am going to go up to the school and spend time with Financial aid.
---
5/27/2010 11:36:35 AM
I have done it I am a student and will start college classes this Fall
---
5/17/2010 11:56:59 AM
Last week I got to live a dream. I stayed the night with Master. We snuggled and the best part of that dream I got to wake up with him. I would have liked to shower together but we couldn't do that.
---
5/9/2010 5:00:00 AM
Here I am at 6am sitting at my computer because I can't sleep, I want to turn the worry off in my head. I think I am having an small panic attack. I keep looking at my calendar and trying to find a way to do what is needed to get done. I have a list of stuff that I have to do. I haven't heard back from TCC and I am afraid that I am going to get turned down for school. I am teaching basic Wicca to 5 first year students and possibly picking up another student. I have to plan for Akon coming up the first weekend of June. I am going to start doing marriage counselling for a couple in circle, once a week. I have to do a major clean on the house because my Grandmother is coming to visit and will be here right after I get back from Akon. Summer Solstice has to be planned. August we have Dave's birthday, our anniversary, Christi and I are going to Washington State, and then my own birthday. Parts of the house are falling apart. My yard needs to be mowed and I stare across the fence at my father's lawn mower that my family next door took so I have no lawn mower to mow my yard with. Circle is growing and I keep wondering when the shrink will happen. My car needs the tags and inspection done I have to do that this week. I am sorry no one likes to hear bad news and some wonderful things are happening in my life. I get to see one of my very lovely guy friends today. I have fantastic relationships and couldn't be happier with them. Dave and I have our health. We have a roof over our heads that I will pay the taxs on as soon as possible. We have food to eat. Dave has a job and if I don't get into school I will figure something else out. All will be well I know it, it is just good to get it off my chest sometimes.
---
3/18/2010 12:05:31 PM
I can't believe it is time to sign a new contract with Master already sometimes it seems like yesterday that we started and then other times it seems like we have known each other for years. I am so up to trying new things and thing he will enjoy I just hope I can make it as good for him as he makes it for me.
---
3/9/2010 6:39:02 PM
I am the happiest person. I got to spend a wonderful day with Master it was a dream come true. We didn't have to rush or be anywhere, no expectations just pleasure and the joy of being with each other. I wish you all the happiness I am holding inside me.
---
3/4/2010 11:37:51 AM
I am still amazingly happy. I am under a training contract with my Master Kenneth. The only problem being that we get to spend to little time together, it is mostly because of distance and timing arrangements. He has a very full life and I am only a small part of it. I couldn't ask for more than his praise and understanding.
---
2/9/2010 11:28:06 PM
I am amazingly happy. I could ask for more than the look of praise in my dom's eyes. I am so happy to please him to be pleasing to him. We have had some amazing moments and I look forward to many more and more learning experiences.
---
12/16/2009 4:14:33 PM
I have had a wonderful week it has been full and very heavy but wonderful. I went out to Sir's on Monday to help with the great room swap and then I spent the night with my best friend because she lives closer to Sir than I do and she was going to come the next day and help out. I found my dress for New Years and tried it on it looks great I will buy it this weekend. I went over to Sir's on Tuesday and we cleaned and moved stuff and just had a blast getting to be with him and his family. I am feeling closer and closer to them every day which makes me very happy. I am now looking forward to heading over on Thursday for our 3rd consideration play date. I have gotten to the point that I can't imagine my life without Sir in it he has made a place in my life and my heart full and so I know I want to sign our next contract. Hubby and I are doing so much better since our talk a few weeks ago and I am very sure that with some negotiations the next contract will be fine with him too. So over all it has been a great week and it is only hump day. Have to pick up hubby tonight from the truck, Thursday I have to get some girly stuff done and then go have play with Sir, and buy food for Yule. Friday we take our best friend out for her birthday to RainForest Cafe. Saturday is Holidays at the Hearth at the Log Cabin village and drunken cooking for the holiday dinner on the 20th. Sunday is our annual Yule Eve celebration with food, fun, gifts, crackers, and ritual. So a very busy week and weekend but I will be in heaven.
---
12/12/2009 10:22:14 AM
Today is a good day though there is some worry eating away at my tummy. I worry that I am asking for to much attention. I miss the times I don't get to talk to Sir, I hope he doesn't find me demanding of his time. I hope I can be of some help this week as he cleanses the house of one persons negativity and does a major swap of rooms.
---
12/9/2009 10:41:29 PM
Sit on Kinky Santa's Lap and Tell Him what you want contest http://.com/sit_on_santas_lap
---
12/5/2009 10:22:18 AM
Oh my Sir wrote about me in his journal. I am so happy. Giddy dance.
---
10/29/2009 11:09:25 PM
Being considered so I am not looking at this moment. Thank you
---
10/22/2009 9:54:07 PM
Good week talking to a wonderful man, can't wait to meet face to face. Hubby is home and doing well. Visited a friend in the hospital. Was there to celebrate with another friend when he learned he has lost almost 200 pounds.
---
10/15/2009 3:16:22 AM
Oh it has been a bad week. Hubby isn't happy not doing well on the road. I fell and hurt myself Tuesday. And idiots at hubby's work put check out late so a little tighter than I would like to be. Masturbation is getting old. I am tired I hurt and I am so lonely I could scream but no one would hear me. Oh well things will look up soon. I don't have the flu, house is fine, have work to do and should be getting to it.
---
9/29/2009 4:29:10 PM
I miss the sound of your voice
I miss the rush of your skin
I miss the still of the silence
as you breathe out and I breathe in

If I could walk on water
if I could tell you what's next
make you believe
make you forget

come on get higher
loosen my lips
faith and desire
and the swing of your hips
just pull me down hard
and drown me in love

I miss the sound of your voice
the loudest thing in my head
and I ache to remember
all the violent, sweet, perfect words that
you said



---
9/21/2009 6:04:15 AM
What I mean when I say I love rough sex.

To me rough sex is wild. It can start with desperate kisses and rough removal of clothing, very little foreplay which if I have been flirted with enough alot of foreplay isn't necessary. Then the sex is just rough deep punishing strokes, rough hands on my body, teeth biting my neck and then kissing the sting away, spanking my ass, gripping my hips hard and pulling me into a hard thrust. To me that is what I mean when I talk about rough sex.

---
9/16/2009 6:55:35 AM
I am working on a major halloween costume I hope it turns out. It is a cross between burlesque and day of the dead. It is based on this photo I found.


---
7/28/2009 5:47:22 AM
25 Things about me
1. Well I am typing this in the dark at 6am in the morning. Yes after years of magazine work my typing teachers would be happy I have the keyboard memorized finally.

2. I raised my sister and brother when I was 5 and 6 years old and never truly was able to be a kid; so that is why I decide to act silly now.

3. If the world ran logically (which we all know it doesn't ) I would have never been born.

4. I believe flirting is good for the soul and everyone should engage in it and be flirted with as often as possible.

5. I have an amazing group of family/friends who I would gladly take over some of my own family.

6. I love to debate but hate conflict.

7. I know how to use a long sword.

8. I have the most amazing husband and can't imagine a life without him.

9. I have never been out of the US.

10. I am more macabre than you could possibly know. I have eaten pizza with people who looked like they were in a car accident and told them to keep there syrup to themselves and off my pizza.

11. I have worked at two of the best charity haunted houses in the DFW area and I can take a 5 year old through them and have them laughing and want to go back and do it again.

12. I own books with titles like "Zombie Survival Guide" and "How to Survive a Horror Movie".

13. The most amazing moment with my magazine was when I got to go to the first ever movie premier in Fort Worth at the Bass Hall Downtown and sit in a box seat.

14. I have 7 tattoos including stocking tops which are my recent addition and I am planning many more.

15. I collect 40's and 50's style pin up art.

16. My office is full of tombstones, skulls, masks, and sheer black material.

17. I am the biggest contradiction you will ever meet.

18. My middle name should have been "exception to the rule".

19. I am a priestess of Persephone and I have gotten 2 tattoos for my goddess.

20. I own more fedoras than anyone else I know.

21. My favorite crystal, stone, what ever you want to call it put it in jewelry and give it to me and I will love you forever is amber.

22. I was goth before it was cool and long before this emo shit.

23. I will answer any question I may blush and stammer but I will answer.

24. I use to play Dungeons and Dragons and my favorite is still first addition.

25. I am not afraid to die I know I am coming back there is no way I am done. I want to come screeching into the afterlife on a broke down body saying "Yeah lets do it again that was fun."

---
6/21/2009 11:36:20 PM
I am doing really well. Keeping busy started the new business and doing quite well I have 5 bellydance students right now. So not a bad first start. I am also working on all the stuff I need to get financing so I can open my studio and shop I know it will come soon.
I even worked on a beginning web page http://jasminenights.vpweb.com/ so alot going on.


---
6/13/2009 10:20:34 AM
I am back in town again. Had a good time on the road with hubby. Also had a game/movie night last night at my house it went really well and I am still on a high. Tired but feeling good.
---
6/7/2009 10:10:54 AM
Heading out of Town tonight.
Well I am leaving out to LA tonight after full moon so I will be back online in a few days. Everyone take care, be safe, and have fun.


---
6/4/2009 11:53:21 AM
We had a wonderful time at Akon the Japanese Animation Convention. I worked my ass off for four days I think I lost 5 lbs. I even got my photo taken a few times.
Friday I dressed as Abby from NCIS




Saturday I was in a Kimono




I have some very strange friends but we have an amazing time




He is attacking my car mouse for my laptop




Her crutch has been checked by security and found to be safe finally after many zip ties have declared it so
---
6/1/2009 6:49:13 PM
Finally home again, it was a crazy weekend at the convention. I worked my ass off really I think I lost 5 lbs. I had a wonderful time and even got my photo taken a few times. Friday I dressed as Abby from NCIS and Saturday I was in a red kimono and corset.
---
5/23/2009 5:44:18 AM
Well I finally made it to 4th Friday and Sanctuary. We had a good time and seeing some people that I have talked too online was very fun. I missed one person, but I finally feel like I am doing something and not just sitting on the sidelines. I hope everyone has a great weekend.
---
5/19/2009 2:11:22 PM
I am happy to be feeling better I came down with a nasty bug and was in bed for two days. That isn't so bad when you have someone to help but being sick by your self is not cool. But much better now, it is lucky I learned how to take care of not only others but myself at an early age. So I am sorry if I haven't been on or talking as much lately but the best medicine we all know is rest so I was resting. Take care everyone and don't get what I got or atleast have someone to care for you.
---
5/11/2009 11:45:57 PM
http://www.youtube.com/watch?v=gXU8kCrRHJY


Young

teacher



, the subject
Of schoolgirl fantasy
She wants him so badly
Knows what she wants to be
Inside her theres longing
This girls an open page
Book marking - shes so close now
This girl is half his age

Dont stand, dont stand so
Dont stand so close to me

Her

friends



are so jealous
You know how bad girls get
Sometimes its not so easy
To be the teachers

pet




Temptation, frustration
So bad it makes him cry
Wet bus stop, shes waiting
His

car



is warm and dry

Dont stand, dont stand so
Dont stand so close to me

Loose talk in the

classroom




To hurt they try and try
Strong words in the staffroom
The accusations fly
Its no use, he sees her
He starts to shake and cough
Just like the old man in
That book by nabakov

Dont stand, dont stand so
Dont stand so close to me

Dont stand, dont stand so
Dont stand so close to me

"I love that temptation. your heart races and your palms itch just to touch someone. To give in and do the thing you know you shouldn't."

---
5/11/2009 7:42:23 PM
Lately I have had a new fantasy running through my brain at night. They keep piling up. There are so many things I want to try and do. I want to push myself more and more to take these ideas out of my head and into my real life.
---
5/8/2009 9:33:08 PM
Bayer 's Heroin
A bottle of Bayer's heroin. Between 1890 and 1910 heroin was sold as a non-addictive
substitute for morphine. It was also used to treat children with strong cough.
Coca Wine
Metcalf Coca Wine was one of a huge variety of wines with cocaine on the market.
Everybody used to say that it would make you happy and it would also work as a medicinal treatment.
Mariani wine
Mariani wine (1875) was the most famous Coca wine of it's time. Pope Leo XIII used to carry
one bottle with him all the time. He awarded Angelo Mariani (the producer) with aVatican gold medal.
Maltine
Produced by Maltine Manufacturing Company  of   New  York  . It was suggested that you should
 take a full glass with or after every meal. Children should take half a glass.
A paper weight: 
A paper weight promoting C.F. Boehringer & Soehne (  Mannheim  ,  Germany  ).
They were proud of being the biggest producers in the world of products containing Quinine and Cocaine.
 Opium for Asthma:
No comments.

Cocaine tablets  (1900)
All stage actors, singers teachers and preachers had to have them for a maximum
performance. Great to "smooth" the voice. 

 Cocaine drops for toothache

Very popular for children in 1885. Not only they relieved the pain, they made the children happy!
Opium for new-borns
 I'm sure this would make them sleep well (not only the Opium, but 46% alcohol!!!!!)
---
5/5/2009 6:15:48 PM
 It is always a delight when a easy conversation on the phone turns into something wonderfully naughty. I dropped phrase here a suggestion there a growl in my ear. I was a puddle coming without touching myself just from his voice and suggestions. I hope that I can live up to expectations in person; I don't want to let anyone down.


---
5/3/2009 11:03:52 PM
Tonight is the first time I was intimate with a bed post, it was quite entertaining. Thank you Crow
---
4/29/2009 5:10:28 AM
Tonic


Lemon Parade lyrics
I wish I'd seen you as a little girl

Without your armor to fend off the world

I would have kept you underneath my wing

I would protect you from everything

Make way for the lemon parade

Make way for my girl

Make way for the lemon parade

Make way for my girl

Did the boys all tease you when they had the chance

Always left standing when it came time to dance

Did you hide behind your books girl

Did you find your secret friends

Always I'll want you

Always 'till the end

Make way for the lemon parade

Make way for my girl

Make way for the lemon parade

Make way for my girl
---
4/27/2009 10:41:41 PM
I am sitting here listening to Tonic and the flesh of my right thigh is pulsing with my heart beat. The skin is taunt and needs lotion again.
I had a wonderful time yesterday being among my friends as they chatted about everything under the sun while my sadistic tattooist repeatedly tormented me; and masochist that I am I pay her to do this and come back repeatedly.
There is something strange about getting tattooed the feeling that it is all out of your control this person is going to hurt you; you asked them to hurt you over and over and knowing that if you stop it, move to much that you could mess it up for life. Yet the only thing I can control is to be as still as possible. Usually I use friends and chaos to help me do just that.
But this time was different a suggestion given to me earlier in the week had my blood pumping and warming. I wanted to know what it would feel like to do and hear all he suggested. To hear a deep voice whisper to me helping me change the pain into pleasure knowing that if I kept still and was a good girl that I would be rewarded.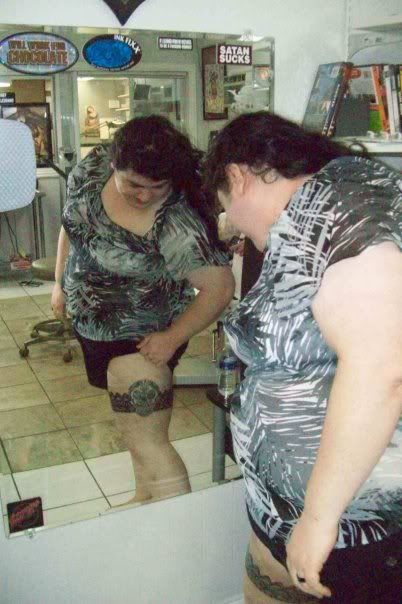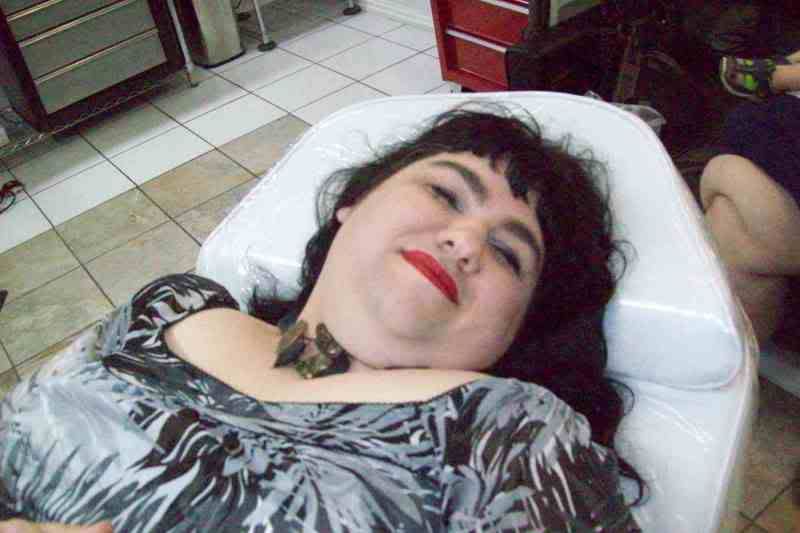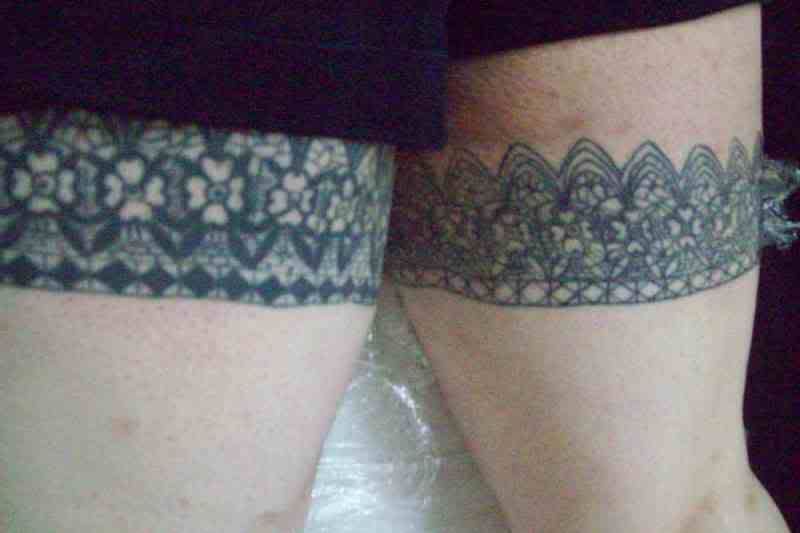 ---
4/26/2009 11:04:07 PM
Oh I am in pain but it was worth it. I love the finished work and can't wait to show it off soon. I had a few moments where I am sure any sadist would have loved the look in my eyes. I will share photos as soon as I can.
---
4/23/2009 11:38:35 PM
Sunday I go under the tattoo needle again and I hope to finish my right stocking top. The party will start about 3pm and I am sure I will squirm on the table for several hours. Lucky the outline is there and the skull is colored so not as bad as when I got my left one done. I plan to fill the tattoo artiest room with friends because I need all that chaos to distract me because they think it isn't a good idea to try my other idea. That is to have someone whisper naughty ideas and see if I can turn this kind of pain into pleasure.
---
3/19/2009 1:09:57 PM
So at Celtic Pride Day (aka St. Pat's day) I was talking about tattoos. Of course many of you know I have 7 so far. I have to finish the lace work on my right stocking top. Chrystal my dear friend and student is designing the morning glories that are going to be an anklet for my left ankle. Then I have to get the line done up the back of both legs for the seam for the stockings.
Why am I on a hunt well for years now after driving through the Southwest and talking with one of my favorite gods Raven. I had a vision of a tattoo that I would love to get done. It is of a Native American Man with his hair blowing in the wind and then his hair becomes Raven's it was a part of a story I franticaly tried to get on paper on that trip. So I found some nice stuff while I was hunting this evening.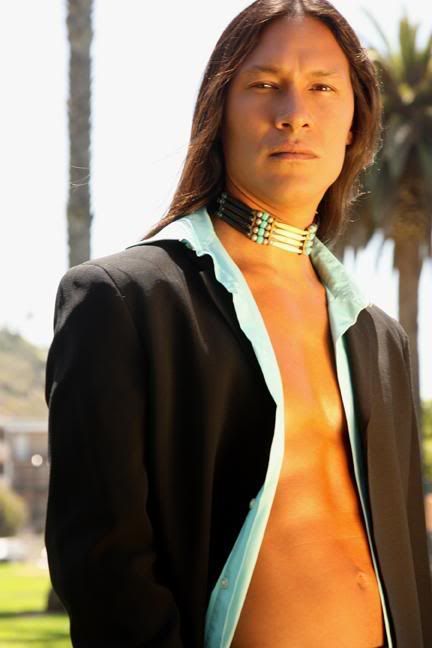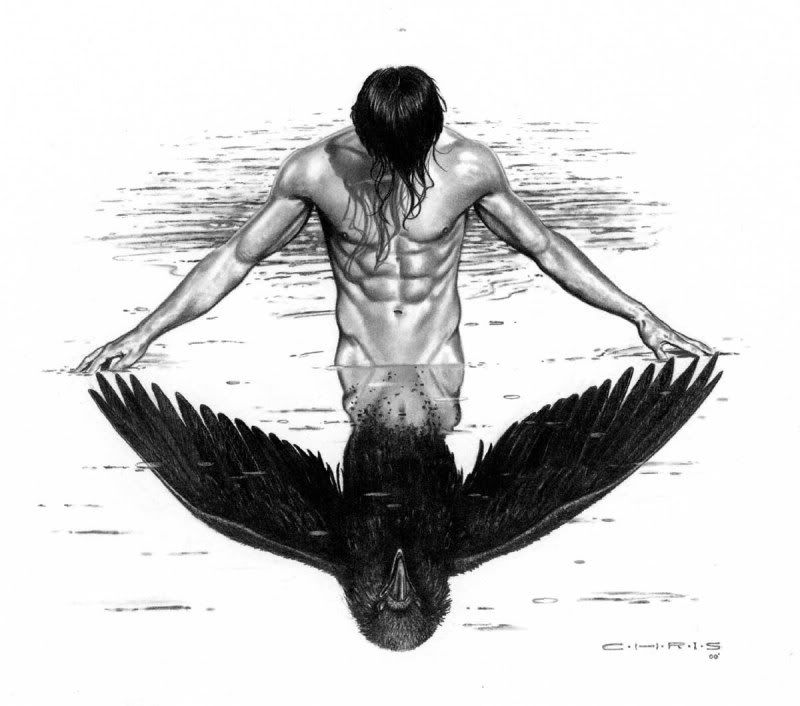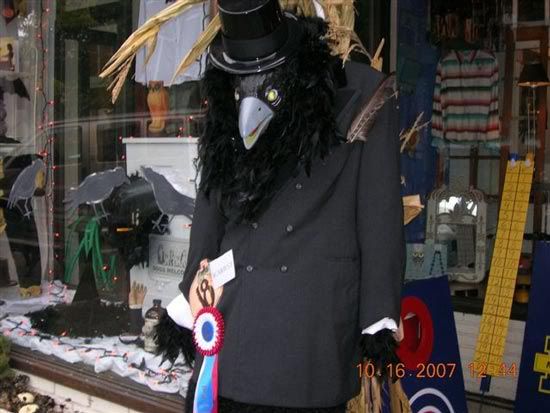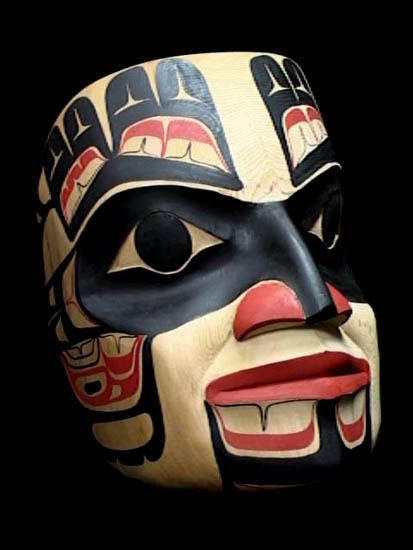 So if you know any artists that would like to help me out please have them contact me.
---
3/13/2009 12:24:53 PM
I have a question.  Why is it that some doms who contact me assume that my husband is submissive? Is it because I am submissive? Is it because he isn't a typical dom with me?
---
2/14/2009 10:21:16 PM
The music washed around her body filling in the lonely places for just a moment, but a moments relief was better than none at all. She stood alone apart from the party that rushed and swirled around her, brightly colored masks and elegant costumes paraded past. She watched it all longing to be lost amid it. Dressed in the midnight blue velvet dress that clung to her curves, covered her ample chest with triangles of dark velvet held up by thin straps over her bare shoulders. The mask that covered her face was a mixture of black and dark blue made her feel exotic and mysterious; things she really wasn't all you had to do was look into her honest chocolate brown eyes and see into her they hid nothing. She should have been able to just melt into the crowd around her, through her head back and laugh as she twirled and swayed to the music filling her. No she stood alone, apart only a spectator to the joy.

That is how he found her alone and apart but a jewel amid gaudy copies. His hands tingled to trace the outline of her body to paint a picture with his hands. He had to meet her had to hear her voice, have it wrap around him and capture him. He knew he had waited and now the waiting was over. He walked to her and pleasure.

She saw him as the crowd parted in a twirl, only a glimpse but she knew she was his destination. He walked with purpose lose and controlled like a giant cat in the jungle stocking. The blood rushed in her body as she watched his eyes devour her, and she longed to have his teeth devour her as well.
---
2/3/2009 4:00:48 PM
Continue of Dinner for Five.
    "Dessert is served gentlemen." I hear you announce to the room.
    Suddenly hands are caressing my body removing items on my body and around me giving me a little more freedom to move and I stretch trying to remove some of the kinks from my body.
    "Don't worry sweet heart we will make you feel better." A deep voice tells me and I shiver, I have always been attracted to deep voices. The hands are still caressing me touching me every where.  I was moaning in need and then I felt fingers enter me helping to relieve some of the tension. I was then slid very slowly down the table till my bottom was hanging off the table and warm male hands held me up and then I felt someone's mouth on clit and I exploded. It was all a blur of action I lost all sense of where I was and how I was touching and just felt and felt till I exploded so many times I had nothing left to give.
    I then felt someone pick me up and set me on my feet. "Very good little one, I think you deserve a nice hot bath and a nap. Thank these wonderful gentlemen for pleasuring you." You told me.
    "Thank you sirs." I weakly replied. And you led me from the room, once we were in the hall you removed my blind fold. I was so tired I couldn't keep my eyes open and you led me into a large bedroom and then into the largest bathroom I had ever seen.
    "Wait right here my dear." You told me as you placed me in a chair covered in a terrycloth fabric. You started the bath and then went over and lifted me from the chair and fallowed me down into the water letting me sit between your legs while you washed me.
    I didn't remember leaving the water, being dried off, or getting into the bed but I woke at dawn in your arms smiling up into your eyes.
---
2/1/2009 5:44:15 PM
Dinner



The home at the address you sent me is huge. Three stories and several wings. The circler drive is paved and I park just where you told me to and make my way to the door. I assume I will not be clothed long because you gave me no instructions on what to wear. To make it easier to remove my clothes I wore no bra and no panties. I have on a skirt and a silk blouse in black. When I knock on the door you answer and lead me down a long hall and into a study.





You instruct me to take off my clothes. I do as you instruct me but slowly because I know you love to watch each inch of skin revealed. Soon I stand before you in nothing at all, my hands behind my back, head lowered, eyes downcast.





You walk toward me and tell me how good I have been. You tell me to lift my head and you bring a black silk scarf up and blindfold me.





"I am going to lead you from this room, you are going to be placed on a table. Food will be arranged on you and around you. I want to you to be as still as possible until I tell you. I know you will have to move a little but try very hard not to dislodge anything displayed on your body. I don't want you to talk unless you are asked a question. I will remain with you the entire time. Do you understand?"





"Yes sir." is my breathless reply. You lead me carefully from the room and do as you have told me with helping hands you place me on the table and I feel items being placed around me, ear foot steps and the rustle of clothes as people work.





"Very Good." You tell me as I hear the sound of china being placed and silver were. I then hear the sound of retreating footsteps as I assume the help have left. "I want you to be very good I have arranged this whole thing just for your pleasure along with mine."





I settle and relax my body being aware of each piece laid on me and around me the place settings and breath as shallow as I can. While I try to gain a meditative state I hear heavier footsteps enter the room, these are heavier than the help. I can't count the number of people but I know it is more than a few. The sounds of men talking softly fills my ears. I hear things like "oh she is better than I thought.", "how lovely.", and "I can't wait.". The sounds of chairs scraping the floor shocks me and I almost move to much but calm quickly. I don't want it to end because I did something wrong.





The sound of dinner being served and the male voices in conversation starts to lull me into a deeper meditative state until the back of a hand is ran down my side almost touching my breast and a gasp escapes my lips. On my other side my nipple is pinched by large fingers.





"They can't wait for dinner to be over and get to you. Can you feel the tension in the room my little one?" you ask me in a whisper.





"Yes." I say softly.





"She is so responsive ." a male voice at the foot of the table says to you.





"Yes she is just wait and see. I think this is the last course and then dessert." You say and I can hear the grin in your voice.





New footsteps enter the room and I can hear the china being removed, the tension builds a little more.




---
1/26/2009 6:12:36 PM
Leather and Scotch




The room is dark and warm. Low lamps offer pools of light. I can see that your sitting in a cigar colored leather chair. The large kind of chair I love so much the kind meant for good books on cold nights. I can't see much of you just below your waist. I can see your charcoal grey slacks, your leather loafers. I can see the high ball glass in your hand, the liquid matches the leather hugging your body.


I can smell the scent of leather, books, the scotch in your glass, your unique scent. I hope you too can smell the amber perfume on my skin and the scent of my arousal. I have dressed in things I thought you would love to see me in. High heels in black leather hug my feet. Black stockings encase my thighs, the end of my skirt just barely covers the lace at the top. My skirt is deep red velvet with a lace edge that brushes my thighs as I walk. My blouse is red silk and is snug across my breasts.


You tell me to walk forward into a spill of light in front of you. "Take off your clothes, leave the stockings and garter belt." Your voice is like a caress on my skin I tingle all over. I start by unbuttoning my blouse one button at a time, slowly spreading it wide until I have it completely undone and I pull the tails out of my skirt. I let the silk fall behind me the feel of it brushing my arms reminds me of your finger tips. I reach back and unhook the black lace bra, let the shoulder straps fall and lay it on the blouse behind me. Now I run my palms down my sides and hook my thumbs in the waist of my skirt and shimmy out of the velvet, till it puddles around my heels. I stand in the spill of light in nothing but the garter belt, black stockings, and leather high heels. I bend down and slowly work my hands down my calves to my ankles and take the right heel from my foot and set it to the side and do the same slow movements on the left heel. I stand up fully dressed exactly how you have asked of me.


"Very good." I can hear the ice clink in the crystal of the high ball glass. "Now lay on your back and pleasure your self slowly, you are not allowed to cum until I tell you. If you find yourself getting close tell me and touch another part of your body."


I sink slowly to the ground with a hip movement I learned in bellydance. Now on my knees I palm my breasts and slowly lay back my thighs spread wide, the carpet plush and soft beneath me like tiny fingers touching and supporting me. My nipples poke my palms as I feel the weight of your gaze.


I move my hands down my body and graze my nipples with my thumbs as they sweep down my sides to my hip bones, where I draw lazy circles covering and uncovering the round tattoos on each hip. With my nails I trace the circle outlines. I then palm my thighs I love the softness of my skin just above the lace of the stockings. The black is sheer and enhances my natural porcelain coloring. I continue to stroke that spot just above the lace till I work my hands down to my inner thighs framing my sex.


The ice moves in your glass again and the creaking of the leather lets me know you are enjoying the tease you allow me. I make my way to my sex and open the lips giving you a full view of the heaven there. I trail my fingers from my opening up to my clit taking the natural moisture up to my clit and start to play running my finger in circles around the engorged flesh.


I keep playing my breathing changing, the weight of your gaze fills me. The smell of sex fills the room along with the sound of my moans. I tell you that I am close already. "Good my little one, do as I have told you." So I take my hands from my sex and slowly caress my hips, my tummy, my rib cage; until my breathing calms down.


I then return to my sex and continue to pleasure myself for your eyes. Dipping my fingers in my well and then bringing them up to my clit. Exploring the inner and outer lips. Palming my sex feeling the heat radiate off me in waves. Again my breathing and moans fill the room and I tell you I am close again. "Yes I see well do it cum for me now." As if a dam breaks your words trigger my explosion and I cum in wave upon wave. In the throws of my passion I don't notice that you have left your chair and now you are diving into my sex filling your mouth with my honey.


As I drift back to earth I find your weight above me and your length entering me, filling me full. "You are so beautiful, so sensual, so erotic, never change. Cum for me again, cum around me this time." And I am there again exploding, shattering, reforming into something new.



---
1/21/2009 9:02:21 PM
Killer...Killer...Killer events at The Church in Dallas!
                                                                                                                  Friday Feb 13th: A Friday the 13th event. GEN-XX (yes...it's Gen from the Genitorturers) brings her Electro Fucking Freak Show Sex Circus to The Church for a special Friday Church Night Church Party!
                                                                                                                 Sunday March 1st: MIDORI returns w "Fit to be Tied III". She'll be at South Plains Leather Fest and perform live at the Church at 11 PM. Midori is the master of the art of Jananese Rope Bondage and knows a thing or two about tying a bitch up, so don't miss this one. She's gonna be using the winch and flying her subbies above the dancefloor.
                                                                                                              Friday March 13th: Another Friday the 13th event featuring a Steam Punk Trunk Show. The Church presents an evening of Steam Punk Culture, music and fashion. Details coming soon!
                                                                                                           Friday April 24th: FUNKER VOGT perform live! They seldom tour the US. We now have a confirmed date. Advance tickets on sale soon.

Also...VOLTAIRE will be performing with his full live band. Tentative dates are early May.Feel free to post comments or email questions.

               Spread the word...please re-post!
---
1/18/2009 6:23:02 PM
This is something that fascinates me it is the idea of someone writing on my body in an erotic sense. I wonderful if it is a fetish and if it has a name and if anyone has done it before.
---
1/17/2009 10:30:01 AM
Had a great weekend so far met with a dom Friday night and I can't wait to get to know him better the meeting went very well I felt comfortable the whole time. We are suppose to have dinner tonight with a couple I hope we will be friends with we have a lot in common. So over all it has been great.
---
1/15/2009 3:58:56 PM
I am suppose to meet some people this weekend I hope it goes well. Let you know how it goes.
---
1/8/2009 8:51:42 AM
I have great news. I am being considering by a dom couple at this time, I hope to be very lucky and accepted by them very soon. Shirley
Little one

---
1/7/2009 10:58:45 AM
I had the most interesting thing happen to me last night. I was chatting online instead of writing I know bad girl don't worry someone will punish me at some point. But back to what I was saying and someone I was talking to said they loved my name. My name Shirley. I was blown away I have a weird name no one my age has the name Shirley. I was named after my Grandmother don't get me wrong I love my Grandmother she was and still is the major female influence of my life. But to tell you the truth I might change my name. But you see the reason this blew me over was because he said it sounds mysterious and kind of magical. I have always wanted to be mysterious and exotic but as many of you know I am open book pretty much. I just couldn't believe it someone thought that about my name something that belongs to me. The only other time I have felt like that was one time when I was camping out at a Ren Faire for New Years and I was wearing this black cloack and I was leading this group of people through the woods of the faire mind you I have been there tons of times and the moon light was painting everything in silver so I could see very easly and for some strange reason I see stuff better at night go figuar. And one of the guys behind me said it felt like they were being led by some eitheral creature through the woods that I looked so mysterious and other worldly. It was the best thing anyone had ever said about me.
---
1/6/2009 8:39:24 PM
I joined this site a year ago and I am sorry if I made anyone upset I was still getting to know this side of myself and my husband was still coming to grips with the change so I felt it was best to remove myself until I could get a better handle on what was happening. I am back now because I want to give this a chance. My best hope is to find a dom male who would like to see me on regular basis, someone who understands the poly lifestyle and knows that my husband is a part of my life but we want to add to our family. We are already dating a girlfriend together.
---